---
Benefits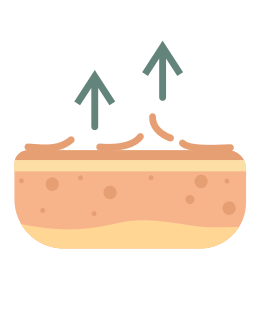 Gentle exfoliation
Facial shaving exfoliates the skin (like microdermabrasion). It removes the layer of dead cells and impurities accumulated from pollution and dust (grease, bacteria, dirt).
Even and smooth base for makeup
The fluff traps the foundation and prevents the makeup from setting evenly, and the skin looks cakey. You remove that barrier when you shave facial hair, and the skin becomes a flawless makeup base.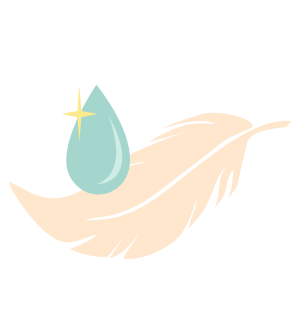 Reduces scars and evens out skin texture
Shaving stimulates blood circulation and cell renewal in the face, which minimises the appearance of marks and pigmentation. Oxygenated and vitaminized blood offers your skin that healthy glow.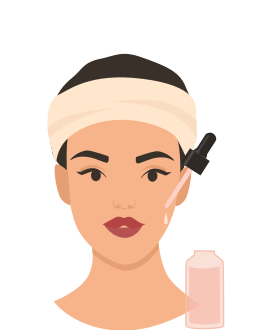 It intensifies the effects of cosmetic products
The barrier of dead cells does not allow active ingredients in cosmetics to penetrate deep enough into the skin. When you shave, a mini peeling removes the layer of dead cells and allows the products to work.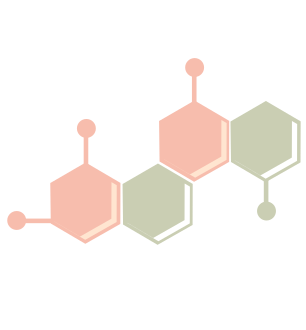 Stimulates collagen production
The facial shave works like gentle microdermabrasion, encouraging collagen production and cell renewal. Thus, the skin becomes firmer, and with frequent use, you can reduce the signs of aging.
No, your hair won't grow back thicker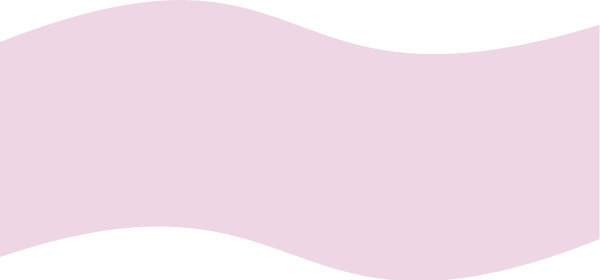 BEFORE - AFTER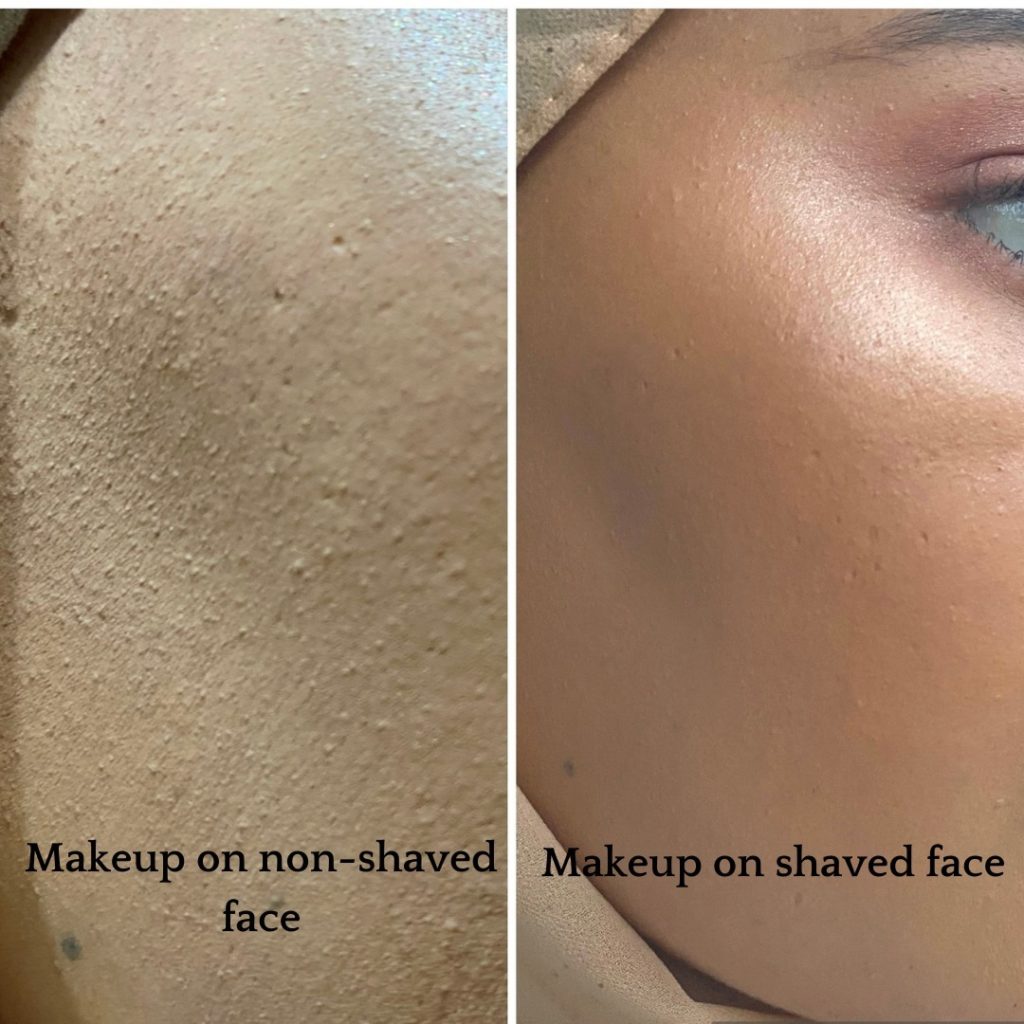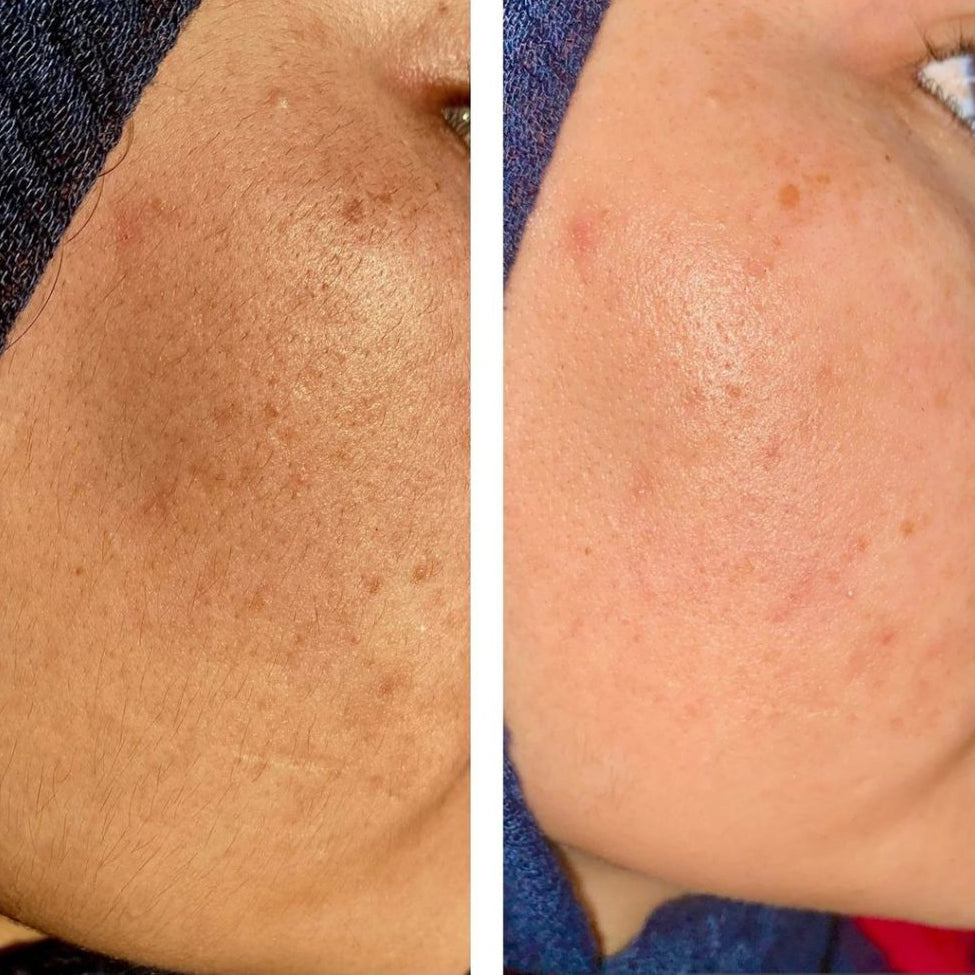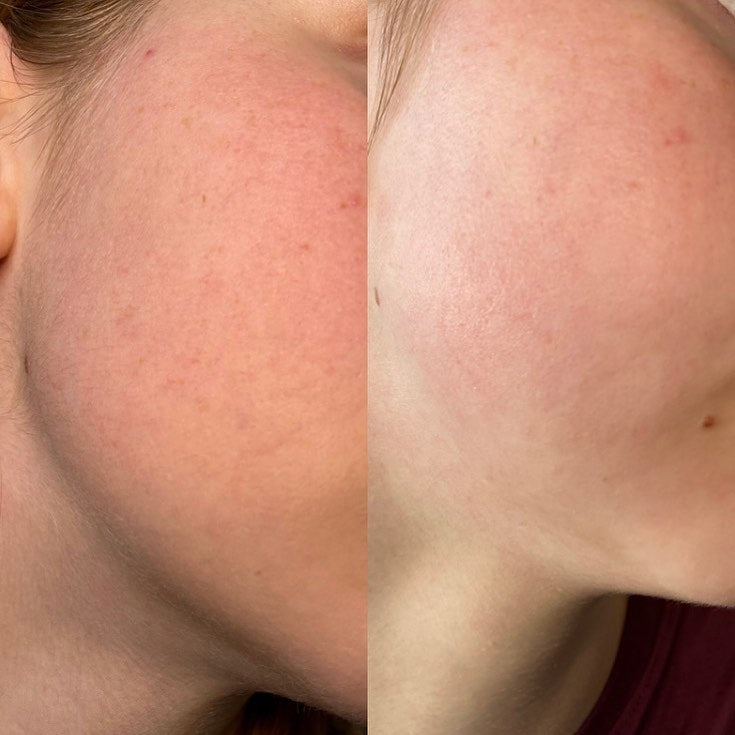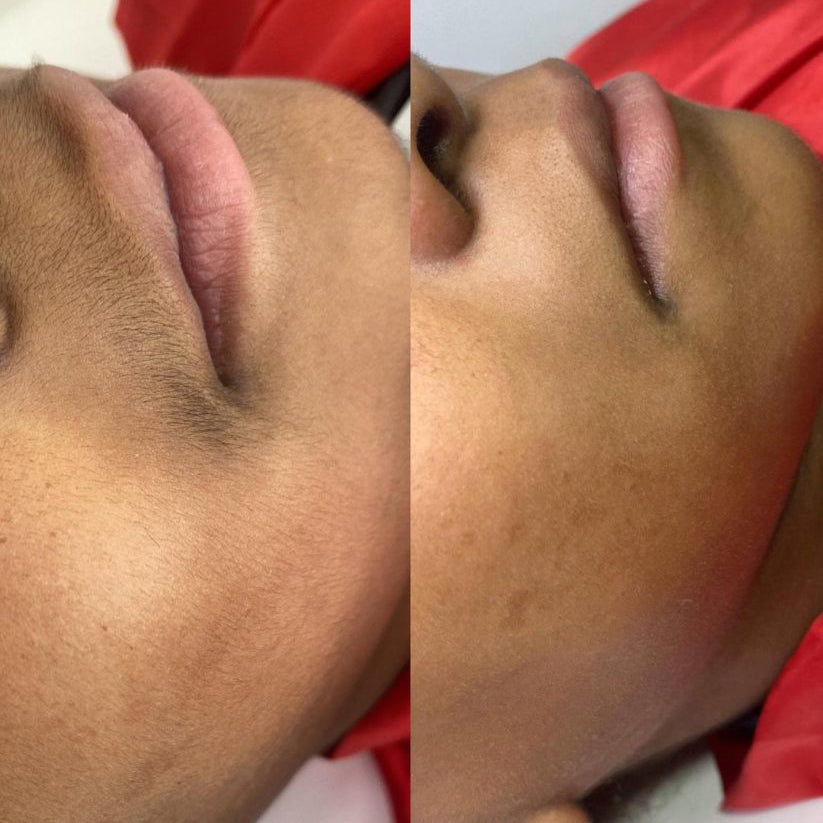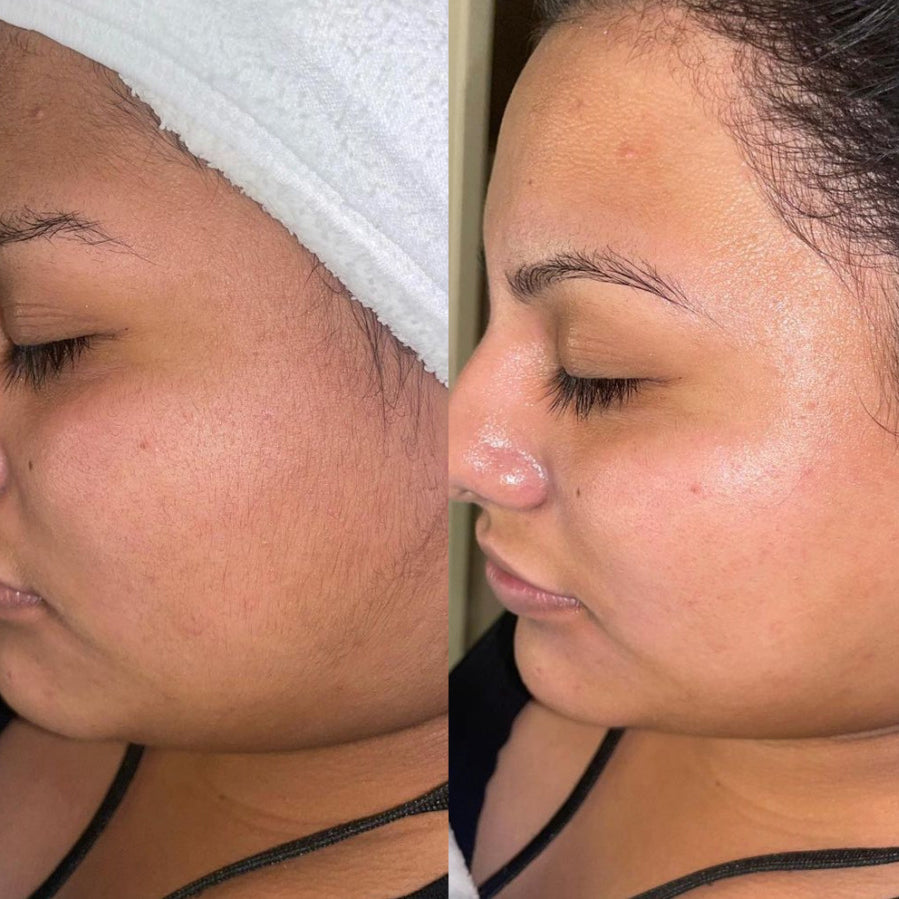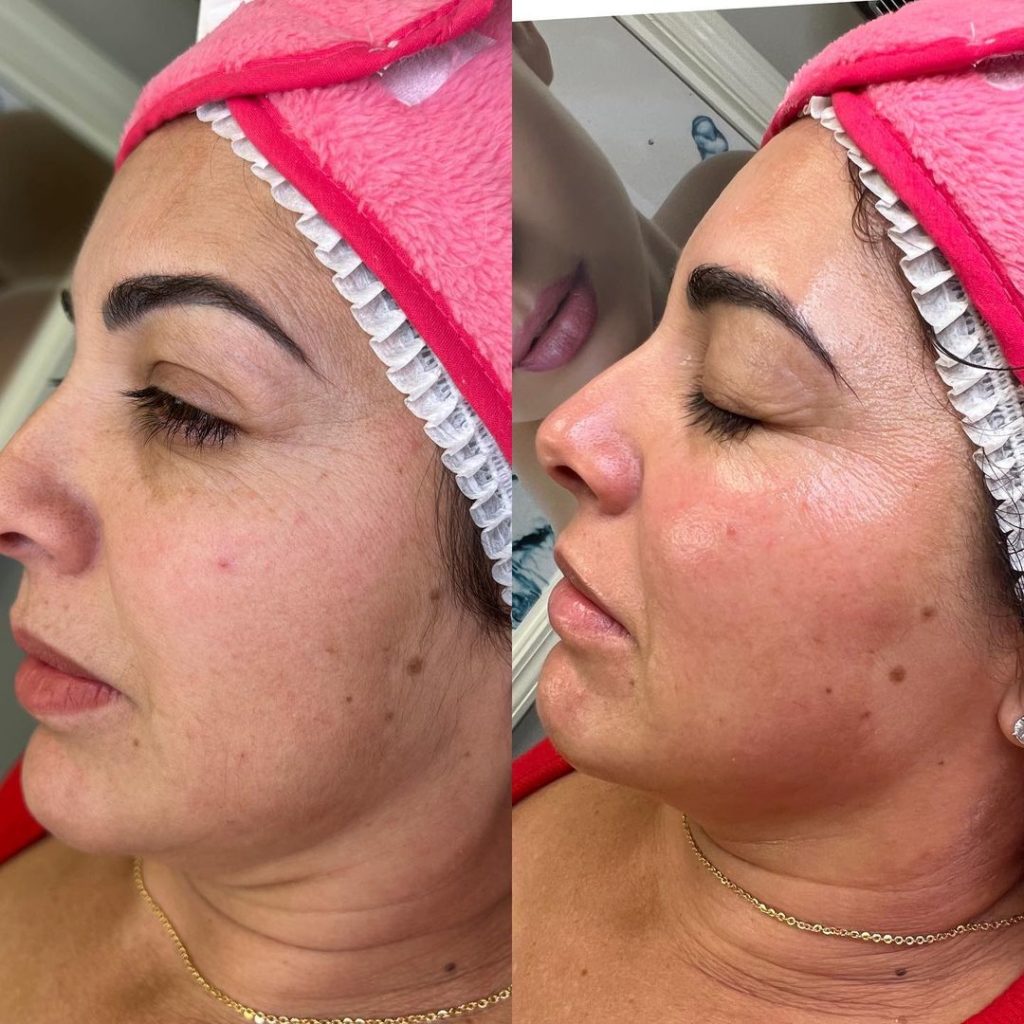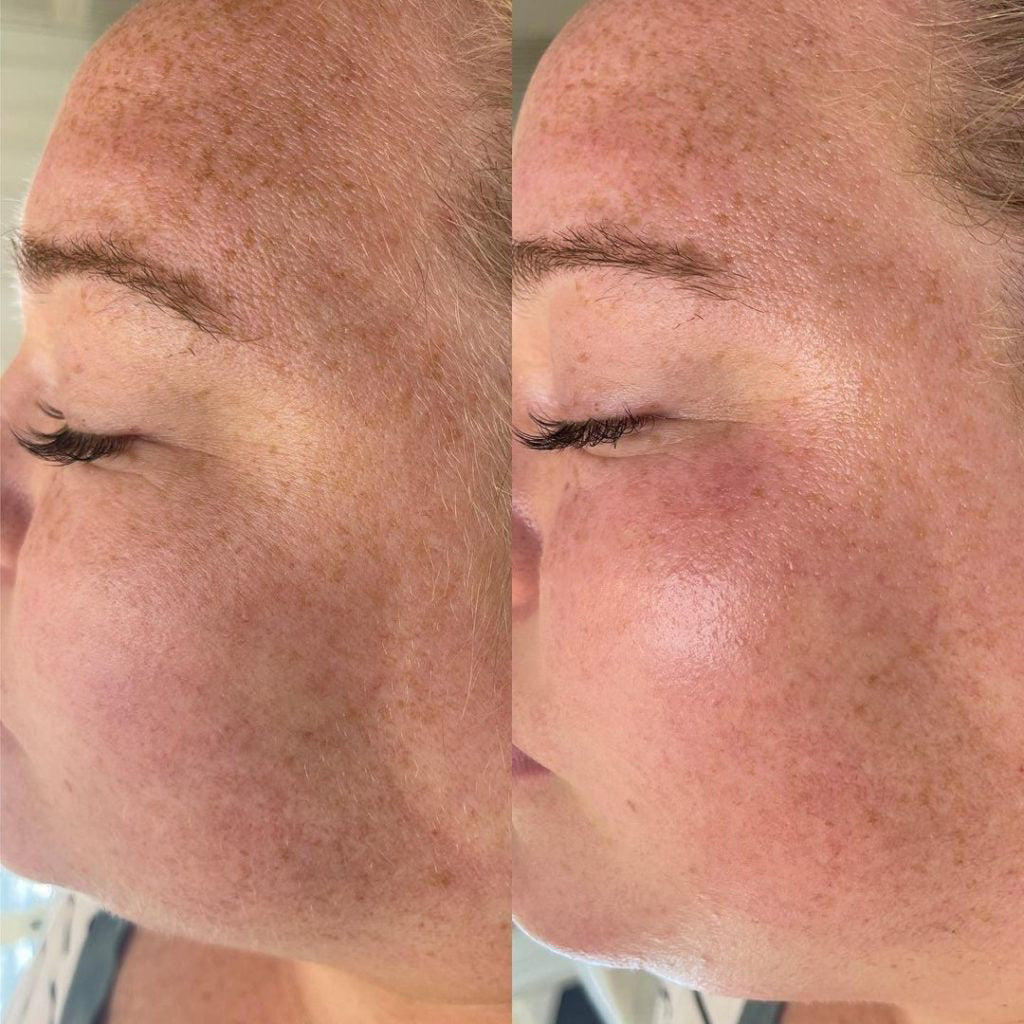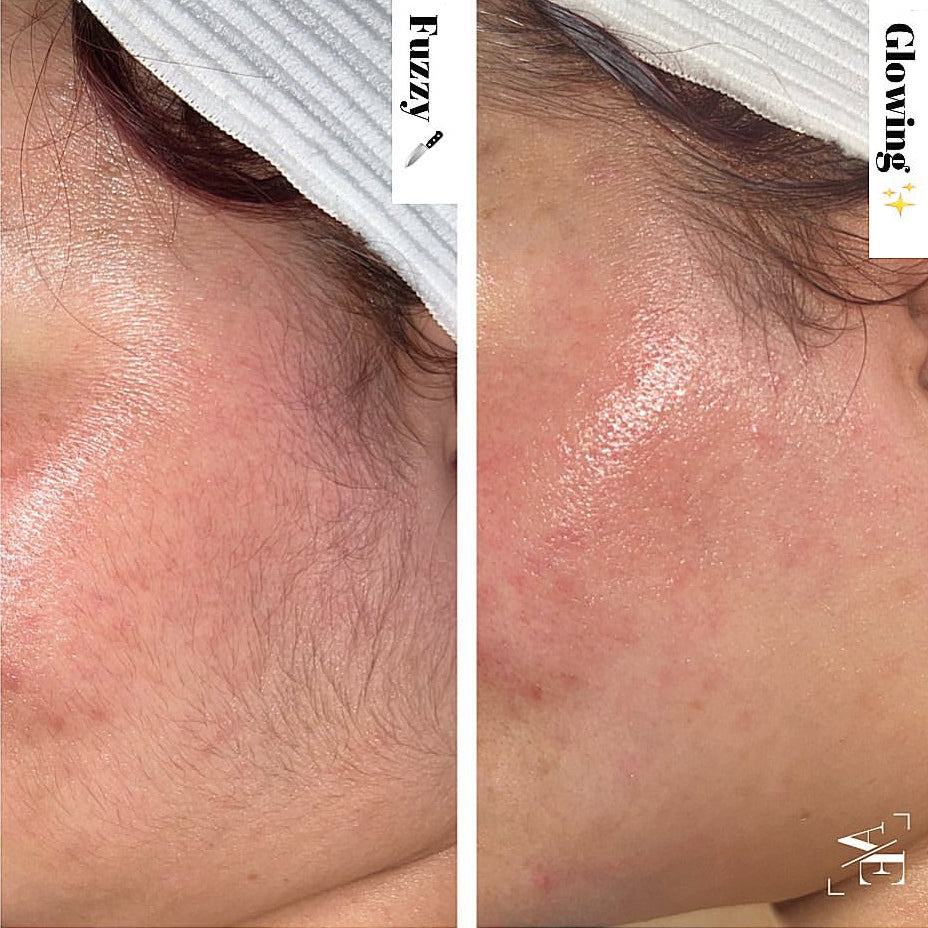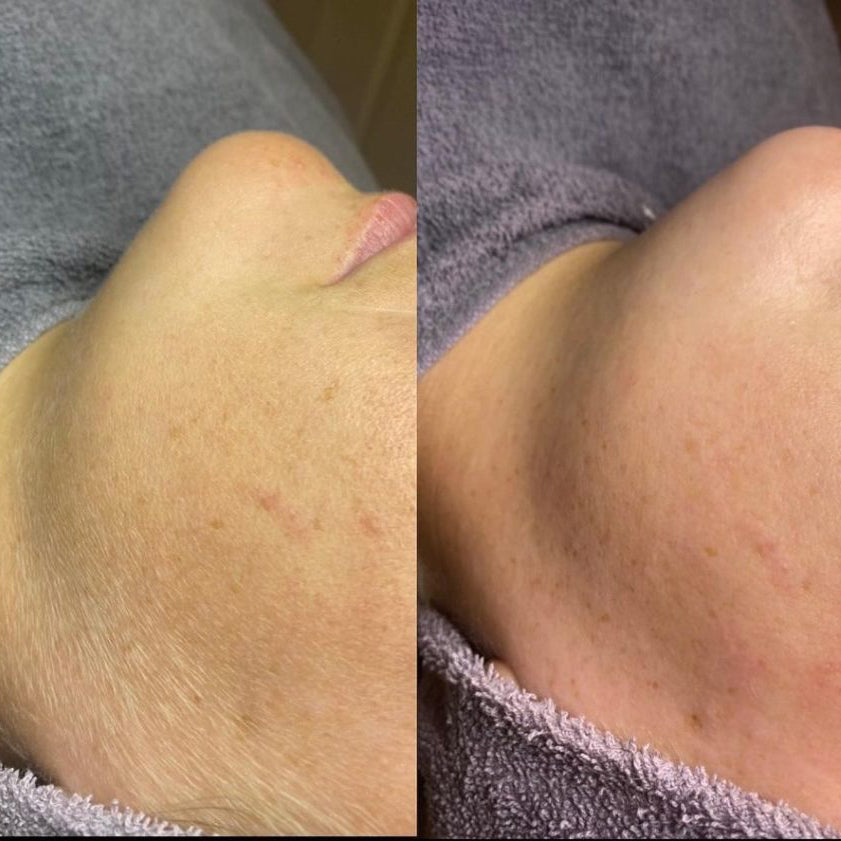 The facial blade cannot change the structure of our keratin cells. Removing facial hair will not change its thickness, color or growth rate.
Genetics and hormones are the only ones that have a fundamental role in determining hair growth color, thickness, and rate.
Facial shaving only cuts the hair at the skin's surface; thus, it cannot influence the hair follicles under the skin, where the real growth begins.
Of course, there are exceptional cases when hormonal imbalances and genetic factors can influence all of the above. Still, these are NOT the result of facial shaving.
If you accidentally fail to use the blade in the direction of hair growth, it will grow with a slightly stiffer tip, which can be easily removed the next time you use the blade correctly.
This varies from person to person and depends on your hair growth rate and how often you apply makeup. We suggest you shave weekly or bi-weekly to benefit from the stunning effects of facial shaving, such as collagen production and improved cosmetic product absorption into the skin. Glowing skin requires consistency and more than just a one-time solution. Regular use of facial blades intensifies the effects of the entire care routine!
Acne is a problem that manifests uniquely for each person. You should never apply lye directly to acne because it can spread the bacteria and cause inflammation. You can safely use the blade around inflamed pores. If the affected area is more significant, it's best to avoid it altogether.
If you follow all our recommendations, you will not have any problems after using the blades. Cleanse the face with a cleansing gel before, use the blade only with clean hands, use a moisturizer after shaving and avoid serums with active ingredients that same day.
Experts claim that exfoliation, collagen production, and cell regeneration help you fight acne long-term. The razor blade shaves your facial hair and removes dead cells from the skin's surface. This layer of dead skin is made up of grease and dust that can harbor bacteria. This is why we have blocked pores which are further responsible for the development of acne.
Helping your skin constantly get rid of dead cells and providing a deep cleanse will make your tone cleaner and brighter.
First, the easiest way to test and ensure that a product suits you is to try it on a small area of ​​skin. Wait 2-3 days and observe how your skin behaves.
Second, preparing your face before shaving is an essential step. People believe soapy water will help their skin be smooth and primed. It's a myth because soap is not a good option, especially if you have sensitive skin!
The facial blade requires a smooth surface to slide on and not cause any damage or discomfort. In this case, shaving foam or oil is the one that can give you such smoothness. They lock in moisture and keep your skin hydrated, unlike soap, which dries out your skin after shaving.
The blade you use must always be clean and sterile. If you want to reuse it, after you are done, clean its surface with soap and water, dry it, and put a protective cap on it. Change it after a maximum of 4-5 uses.
It's totally normal, mainly because it seems a little scary to use the blade on such sensitive areas, and since the topic is so controversial and there are many myths about it.
Keep in mind that the first time you use the blade, you must be as gentle as possible so as not to cause too deep an exfoliation. Shaving foam or facial oil can help tremendously by creating a protective layer between the skin and the facial blade to prevent irritation or breakouts.
The easiest is to place your face under direct sunlight, sitting in a room with a dark background; this will help with contrast. With the help of a phone or a mirror, you can see the threads more clearly. Remember that different areas of the face may have hair growing in different directions. The more precise you are in your movements, the better!